Bienes comunes desde una perspectiva Latinoamericana (Spanish)

Os bens comuns através de um perspectiva Latino-Americana (Portuguese)

The Commons through a Latin American Lens (English)
Note: This webinar will be delivered in Spanish.
ABSRACT IN SPANISH:  Esta charla es una reflexión sobre cómo el contexto latinoamericano puede contribuir a los debates teóricos sobre bienes comunes y cómo se puede promover la participación en este debate de investigadores y profesionales que trabajan en la región. A pesar de una rica literatura que aborda los procesos de privatización y acción colectiva en América Latina, la región sigue estando infrarrepresentada en la comunidad epistémica que investiga los recursos comunes. Además de la barrera del idioma, creo que el concepto de bienes comunes como sistemas socio-ecológicos ha creado limitaciones para abordar las asimetrías, los conflictos y la pluralidad de contextos, que son los principales focos analíticos de la investigación crítica en América Latina. Las articulaciones teóricas recientes que incluyen recursos políticos y culturales en los estudios sobre bienes comunes proporcionan una conceptualización más amplia de los bienes comunes como construcciones sociales que prometen eliminar las divisiones analíticas. Con base en algunos ejemplos de prácticas de (re) colectivización y (des) colectivización en América Latina, propongo un marco analítico integrador para la investigación de bienes comunes con el fin de generar espacios de sinergias entre diferentes tradiciones de investigación en la región.
ABSRACT IN PORTUGUESE: Esta palestra é uma reflexão sobre como o contexto latino-americano pode contribuir para debates teóricos sobre os bens comuns e como o engajamento neste debate de pesquisadores e profissionais que trabalham na região pode ser promovido. Apesar de uma literatura rica abordando os processos de ação coletiva e privatização na América Latina, a região permanece sub-representada na comunidade epistêmica que pesquisa recursos comuns. Além da barreira do idioma, acredito que a conceituação dos bens comuns como sistemas socioecológicos tem criado limitações para abordar as assimetrias, os conflitos e a pluralidade de contexto, que são os principais focos analíticos da pesquisa crítica na América Latina. Articulações teóricas recentes que incluem recursos políticos e culturais nos estudos sobre bens comuns fornecem uma conceituação mais ampla dos bens comuns como construções sociais que prometem eliminar divisões analíticas. Com base em alguns exemplos de práticas de (re)coletivação e (des)coletivação na América Latina, proponho uma arcabouço analítico integrativo para a pesquisa de bens comuns a fim de criar espaço de sinergias entre diferentes tradições de pesquisa na região.
ABSTRACT IN ENGLISH: This talk is a reflection on how the Latin American context can contribute to theoretical debates on the commons and how more engagement of researchers and practitioners working in the region can be improved. Despite the rich body of literature addressing commoning and de-commoning processes in Latin America, the region remains underrepresented in the commons epistemic community. In addition to the language barrier, I believe the conceptualization of the commons as social-ecological systems has been limited to address asymmetries, conflict, and plurality which are key analytical focuses of critical research in Latin America. Recent articulations of political and cultural resources in the commons research provide a broader conceptualization of the commons as social constructs which has promise to bridge analytical divides. Drawing from a few examples of (re) commoning and de-commoning practices in Latin America, I will propose an integrative framework for the commons research in order to create space for cross-fertilization between different research traditions in the region and beyond.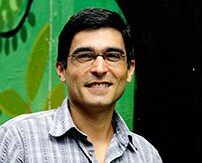 SPANISH: Fabio de Castro, investigador del Centro de Estudios y Documentación Latinoamericanos (CEDLA) de la Universidad de Amsterdam. El coordina el programa de investigación del CEDLA 'Remodelando la sociedad y los bienes comunes en América Latina.'
PORTUGUESE: Fabio de Castro, pesquisador do Centro de Estudos e Documentação Latino-Americanos (CEDLA) da Universidade de Amsterdam. Ele coordena o programa de pesquisa do CEDLA 'Remodelando a Sociedade e os Comuns na América Latina'.
ENGLISH: Fabio de Castro, Senior Lecturer at the Centre for Latin American Research and Documentation, University of Amsterdam. He coordinates the current CEDLA research program 'Reshaping Society and the Commons in Latin America'.
October 3, 2020
Completed!